Carpet Cleaning Melbourne
Carpet Steam Cleaning Melbourne
Carpet Cleaning Services Melbourne – With years of experience in the cleaning industry, our technicians cater to both residential and commercial clients, including esteemed establishments like airports, hotels, and universities.
We take pride in our fully trained carpet cleaners, who undergo rigorous industry-standard training courses. This dedication ensures that we deliver nothing short of exceptional results. To achieve the best outcomes, we employ the cutting-edge cleaning equipment for wet extraction carpet cleaning, paired with top-quality cleaning solutions.
Our satisfied customers often choose to combine our carpet cleaning service with end of tenancy cleaning, deep cleaning, or post-building cleaning. However, you can also opt for our carpet cleaning service as a standalone option. But why stop there? Let our professional carpet cleaners extend their expertise to upholstery cleaning, including chairs, sofas, and arm-chairs. Moreover, we specialise in mattress cleaning and rug cleaning, leaving your home fresh and revitalised.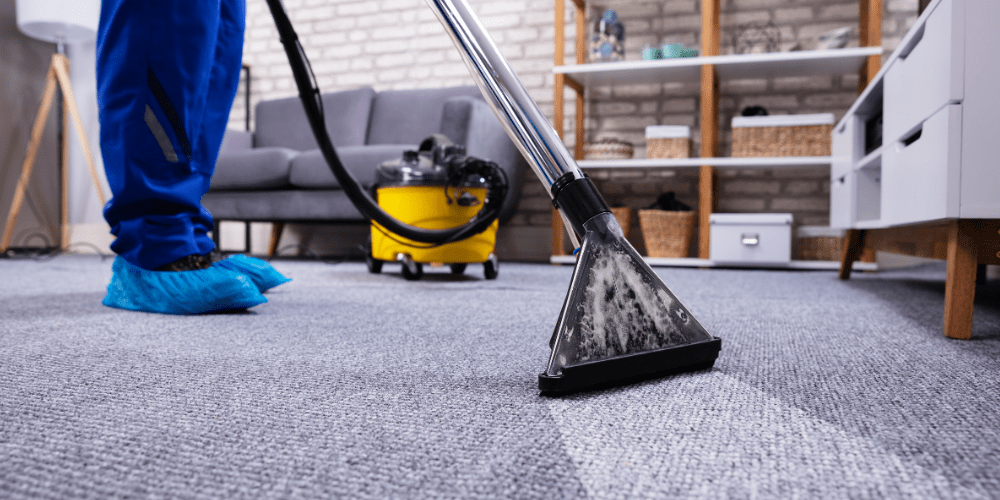 How do you do carpet and rug cleaning?
We use two methods for carpet and rug cleaning: steam carpet cleaning using hot water extraction and dry carpet cleaning.
Steam carpet cleaning using hot water extraction
Carpet cleaning service using hot water extraction is the most popular and effective method for cleaning and disinfection of most carpets. It is environmentally friendly and safe for children and pets. This method is suitable for the synthetic or mixed carpets including polyester, microfibre and wool fibre.
Dry carpet cleaning method
This method is often used for more delicate and natural fibres. As with steam cleaning this method is also safe for children, pets and allergy sufferers. Although it can be used on synthetic fibres it may not achieve the same results as hot water extraction method. However, this is the recommended way for cleaning sisal, cotton, jute, sea grass and other natural fibres). It may not be possible to remove some stains using this method.
Professional Carpet and Rug Cleaning Melbourne
This is the most popular and effective method for cleaning and disinfection of most carpets. It is environmentally friendly and safe for children and pets.
This method is suitable for the synthetic or mixed carpets including polyester, microfibre and wool fibre.
Step 1: Pre-cleaning survey and vacuum cleaning
Our carpet cleaner will vacuum the carpet to remove any loose dirt and dust. The technician will then inspect any of the stains (if there are any) and choose the cleaning chemical to be used. Different professional cleaning stain remover will be used depending on the type of stain. We cannot guarantee that all stains will be removed if they have gone deep into the fabric, but our technicians will try to do their best. Generally, the longer you had the stain, the more difficult it will be to remove it.
Step 2: Cleaning carpets using professional hot water extraction machine
The carpet cleaner goes thoroughly through every bit of your carpet.
The machine injects water and cleaning solution deep into carpet cleaning fibres under pressure. This accumulated soil, grime and dust. Our powerful machine then sucks in excess moisture, soil and dirt. The result is that your carpet is now clean and dry at the same time, with no risk of moisture damage as almost 95% of the moisture is sucked in by the machine.
Step 3: Stain protection – recommended for busy carpeted areas
If you have booked stainguard protection our operative will apply invisible, clear stain protection liquid to the carpets. This invisible protective coating will make the carpet resistant to everyday soiling and both oil-based and water-based stains. It will protect the fabric against penetration of liquids that lead to stains causing permanent damage to the carpet and upholstery. This makes it easier for your carpets to remain fresh much longer and they will be a lot easier to clean in the future.
Step 4: Drying and ventilation
The carpets will be slightly damp and needs usually between 2 and 6 hours to dry. We recommend keeping the windows open to speed up the ventilation and drying. The carpet technician may also decide to leave a fan to increase the airflow.
What Our Clients Are Saying
Best service I've used! They have such great customer service and communication. They bring in all their equipment with no direction needed and are super fast getting the job done. They did such an amazing job on my house and I will definitely be using them again!
服务态度好,非常满意,完全超出我的期望值!非常推荐!
Very reliable cleaning services, 10/10 would recommend 👍🏻
Responsive, respectful and affordable.
The two cleaners who came to my apartment were very polite, professional and respectful of my home. They did a really thorough job across all the rooms, bathrooms and kitchen, getting into all the little corners on the benches and sinks which others miss. I would highly recommend!
5 star service, my apartment was absolutely spotless! Will definitely use again
Alpine Glo's service was a game-changer. They transformed my space into a pristine haven and ensured everything is clean. I am genuinely grateful for their outstanding service.
My house was in desperate need of some deep cleaning after grime and dirt had built up over time. I was hesitant at first, but with the assurance of quality Alpine Glo offered, I was comfortable to make the call. My home was left sparkling, and I was more than pleased with the results. Booked them in on a recurring basis, thank you!
Great service and value! Alpine Glo's cleaning team has always done a fantastic job cleaning our office every week and I would highly recommend them for both residential or commercial cleaning services. Thank you Hock and Sky for the detailed cleaning and thank you Laura for the quick response!
"The girls did a fantastic job, they were here for 2 hours, excellent. I'm very much happy, thank you so much! I'd love to book your cleaners on a regular basis."
"Just wanted to let you know that I'm so happy with the cleaning & gardening services, Hock & Sky are fantastic, thx so much!"
Carpet Cleaning Melbourne CBD and Surrounding
Alpine-Glo provides cleaning services to commercial and domestic customers across Melbourne. Most of our customers are located in the following Melbourne Suburbs, but be sure to check our full list of suburbs as we cover a huge area.